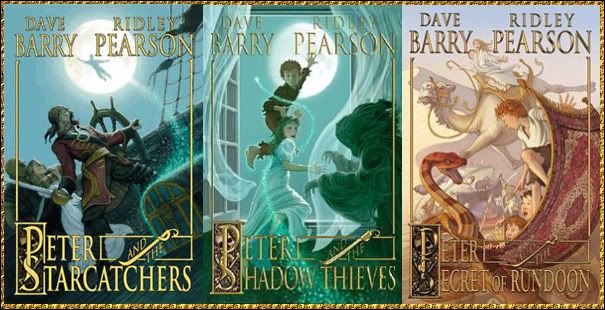 We all know the classical tale of how Wendy Darling and her brothers meet Peter Pan, are whisked away to Never Never Land and their adventures there. Peter exists, but the real world for them is back home with mother and father and Nana, the dog.
The series of books penned by Dave Barry and Ridley Pearson take us to Peter Pan's real world and tell us his story. Therein lies a tale worth reading. I've read the first two of the set:
Peter and the Starcatchers
and
Peter and the Shadow Thieves
and they are action-packed, witty and humorous, while filled with plenty of skullduggery and enough dangerous action to keep any self-respecting reader under the covers with a flashlight reading well past lights out. The third and final book came out in October and is titled
Peter and the Secret of Rundoon
.
The series of three books tell the backstory of Peter Pan, how he and the Lost Boys made their way to Mollusk Island along with Captain Black Stache, and how the latter became Captain Hook. Peter's ability to fly, his agelessness, his friendship with Tinker Bell, all are explained by the authors and incredibly beautifully illustrated by Greg Call. There is a girl in these books, but her name is Molly and it is she who sets Peter on the hero's path and with whom he sets out to save the world from evil doers.
You don't have to be a child to enjoy these books, but it helps to be a child at heart. Hopefully, none of us are too grown up to read these enjoyable books, and if you feel awkward reading them to yourself, find a child and share it with him or her. You can read more at the website by clicking on the title of this post.