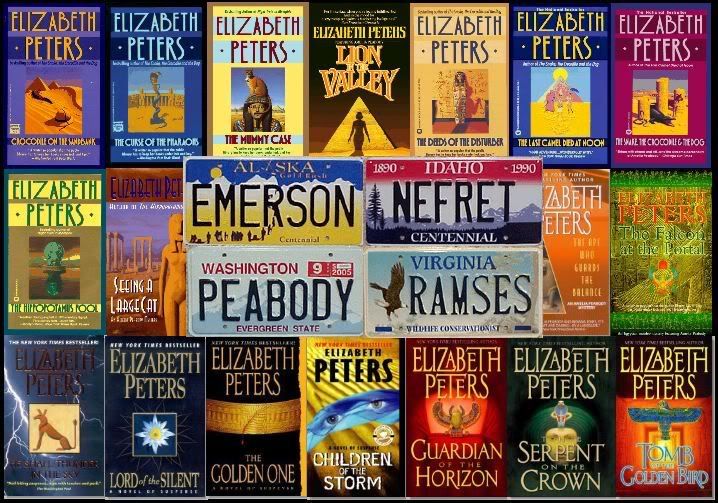 Elizabeth Peters, author of the Amelia Peabody novels. Gotta love Amelia and want to jump in bed with Emerson. The writing is fun, clever and full of tongue-in-cheek, read-between-the lines humor. Plus, I love reading about Egypt, archaeology, and murder and mayhem.
I fell in love with Amelia Peabody in the first novel,
Crocodile on the Sandbank
, written in 1975, when she inherited her father's fortune and went off to Egypt to indulge a passion for all things Egyptian. She is now a grandmother, so I've followed her adventurous life as she fell in love with Emerson, married him, had her "catastrophically precocious" son, Ramses, pursued villains and murderers with her trusty umbrella and belt of tools, explored pyramids, been kidnapped by a romantic villain, rescued many fair maidens, and helped many a couple find each other. I've watched her pedantic, intellectual son grow up into a strong, tall, multi-lingual, brilliant spy and sexy hero, fall painfully in love, marry and have children of his own. Now there are grandchildren and nieces and nephews all over the Emerson household, and the adventures continue.
Each adventure has added a friend or a family member to the ranks, but the stories still center around Amelia, Emerson and their children: Ramses and Nefret. Each member of the family is both brilliant and limited in his or her own way, and very competitive in their attempts to solve each mystery while failing to keep each other out of harm's way, due to the fact that each one is determined to hurtle headlong into danger to protect the others. But their love for each other and unflinching belief in their ability to bring the villain to justice see them through every crisis.
What draws me back to reading these novels again and again and waiting with great anticipation for each new one is the love that I have for these characters and the love they have for each other. Who wouldn't want to be as clever and resourceful as Amelia, as fearless and strong as Emerson, as beautiful and kind as Nefret or as handsome and intelligent as Ramses? These novels never let me down. The early ones I have in paperback, but the new ones I buy as soon as they are printed. No waiting for the paperback edition on these . . . and if you've never read an Amelia Peabody novel, you've already waited too long, so go out and get one. Let the fun begin!
For a fun summary of each of these books visit:
http://www.whidbey.net/licenseplate/gallery.html
This collector of license plates has collected many that reflect names, places and events to go along with the novels.
Popular Amelia quotes:
Most small boys are barbarians. It is a wonder any of them live to grow up.

At the age of three Ramses had informed us that he did not need a nanny and would not have one.... I did not agree with him. He needed something--a stout healthy woman who had trained as a prison wardress, perhaps--but it had become more and more difficult to find nannies for Ramses. Presumably word had spread.

...I am firm believer in psychology when it agrees with my own opinions.

At first I was too stupefied by surprise to do anything. Afterward, I was simply too stupefied to do any thing.

Evelyn was right. With the right person, under the right circumstances-it was perfectly splendid.

I felt I deserved the title; (Sitt Hakim) scarcely a day went by when I was not patching up some scrape or cut, although, to my great regret, I was not called upon to amputate anything.

This annoyed him [Emerson] a great deal, for, as he remarked, when he knocked people down he expected them to stay down.

Abstinence, as I have often observed, has a deleterious effect on the disposition.

Husbands do not care to be contradicted. Indeed, I do not know anyone who does.

There is nothing like continued proximity to strip away the veils of romance.

I would not be at all surprised to find that it was for gold that Cain committed the first murder. (It happened a very long time ago, and Holy Writ, though no doubt divinely inspired, is a trifle careless about details. God is not a historian.)

I knew how Eve must have felt when she looked back at the flowers and lush foliage of Eden, from which she was forever barred. (Another example of masculine duplicity, I might add. Adam was under no compulsion to eat of the fruit: and his attempt to put the blame on his trusting wife was, to say the least, unmanly.)

Though I had slept only a few hours, I felt quite fresh and full of ambition. Righteous indignation has that effect on my character.

The trouble with unknown enemies is that they are so difficult to identify.

A lady cannot be blamed if a master criminal takes a fancy to her.

Men always have some high-sounding excuse for indulging themselves.

Click on the title of this post to visit the Amelia Peabody website.
Here's a list of the Amelia Peabody novels:
Crocodile on the Sandbank, 1975
Curse of the Pharaohs, 1981
The Mummy Case, 1985
Lion in the Valley, 1986
The Deeds of the Disturber, 1988
The Last Camel Died at Noon, 1991
The Snake, the Crocodile, and the Dog, 1992
The Hippopotamus Pool, 1996
Seeing a Large Cat,1997
The Ape Who Guards the Balance, 1998
The Falcon at the Portal, 1999
He Shall Thunder in the Sky, 2000
Lord of the Silent, 2001
The Golden One, 2002
Children of the Storm, April 2003
Amelia Peabody's Egypt* (a book about Egypt of the time Amelia Peabody would have lived if she weren't a fictional character), October 2003
Guardian of the Horizon, March 2004
The Serpent on the Crown, March 2005
Tomb of the Golden Bird, March 2006
Another fun set of Elizabeth Peters books to read is her Vicky Bliss series:
Borrower of the Night
Street of Five Moons
Silhouette in Scarlet
Trojan Gold
Night Train to Memphis
She also writes as Barbara Michaels and Barbara Mertz.