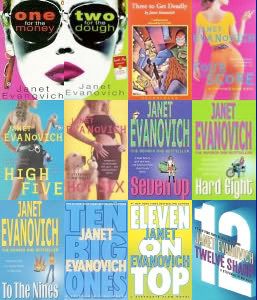 Janet Evanovich, author of the hysterically funny novels about bond enforcement agent Stephanie Plum. Stephanie is from the Burg, a section of Trenton, New Jersey, and she takes a job working for her deviant cousin Vinny as a bounty hunter, because she is desperate for a job. She likes to wear 3-inch stiletto heels, shop at the mall, and eat donuts a lot more than chase bad guys, but a girl's gotta do what a girl's gotta do.

Stephanie can always be counted on to catch the bad guy and wreak havoc in the process with the help of crazy Lula and Grandma Mazur (or maybe not) and Morelli and Ranger, the two absolutely to-die-for men in her life who keep her spinning and occasionally even satisfied, if you know what I mean.

Morelli is "lean and hard muscled with wary cop eyes that softened in the bedroom," where he has never left Stephanie unsatisfied. He's also "six foot of lean, hard muscle and hot Italian libido." In spite of that, she resists his attempts to settle down into a permanent relationship. Notice how that phrase "lean, hard muscled" gets used a lot. It works every time for me.

Ranger is "Rambo meets Batman," a bounty hunter's bounty hunter; wears black, drives black cars, has muscles on top of other muscles; think the Rock. He doesn't say much. He usually just looks at the mess Stephanie has gotten herself into and says, "Babe." He normally goes after the big ticket bad guys for the bond agency, but backs Stephanie up when he's in town and she's in trouble. Their relationship has grown over the course of the books. Stephanie manages to resist his sexual overtures most of the time. Note, I said, MOST of the time.

Lula, an ample black woman who wears the dresses of a much smaller woman, is a former prostitute who becomes Stephanie's best friend and sidekick after Stephanie put the man who nearly killed her away. Stephanie got Lula a job filing for the agency, but she's more likely to be found riding shotgun (and that includes carrying a big gun) with Stephanie or giving her a lift during the frequent times she is between cars, usually because her current one has been blown up.

Grandma Mazur is curious, fearless, bloodthirsty and willing to try anything. She's not going into old age with anything approaching dignity. One can only assume that Stephanie inherited her high spirits from her Grandma Mazur.

Did you catch the part about these books being hysterically funny? You don't have to be from the Burg or live in New Jersey to relate to Stephanie. Few aspire to be bounty hunters, but who can't relate to living with a dysfunctional family, wanting to do bad things to that old enemy from high school, problems finding a good job and keeping the rent paid? But Janet Evanovich takes these to the extreme with the wild and frequently embarrassing episodes that Stephanie experiences while trying to get her man (or woman) to court and collect her fee.

The dialogue may be funny, but the bad guys are really bad guys. Bad things happen in these books, sometimes to nice people. It's a rare book that doesn't have Stephanie's car getting blown up, but it's when the bad guy hurts a friend or threatens her hamster, Rex, that Stephanie really gets riled up. She's frequently terrified, but never lets that get in the way of trying to nab the perp. That's one reason these books are so successful, they are witty and wild, but the danger is real and and Stephanie needs to figure out where the danger is really coming from before the bad guy(s) can kill again. But no matter how terrifying the situation, Ms. Evanovich and Stephanie find the humor in it. Here's an example. Stephanie has been kidnapped, shoved in a trunk by a gang who have every intention of doing her severe bodily harm, starting with gang rape:


I'd always thought in a situation like this the major emotion I'd feel would be terror, but my major emotion was anger. I'd been taken away from my sister's shower. How freaking rude is that? And on top of it, I was still dieting, and I was cranky as hell. There'd been meatballs at the shower. And sheet cake. I'd been steadily working myself into a frenzy while I was in the trunk, thinking about the sheet cake. I glared out at the faces of the degenerate losers who'd kidnapped me, and I wanted to get close enough to them to sink my thumbs into their eye sockets. I wanted to draw blood with my nails. (Ten Big Ones)
You can also get these books on audio CD. My husband and son enjoy listening to them on long road trips.
To get a feel for the characters, check the "Cast the Stephanie Plum" thread on this fan website:
http://www.grupthink.com/topic/1878
STEPHANIE PLUM SERIES
One for the Money
Two for the Dough
Three to Get Deadly
Four to Score
High Five
Hot Six
Seven Up
Hard Eight
Visions of Sugar Plums (Holiday Novella)
To the Nines
Ten Big Ones
Eleven on Top
Twelve Sharp
Plum Lovin' (Holiday Novella)
Lean Mean Thirteen
Plum Lucky (Holiday Novella)
Click on the title of this post to visit the author's website.